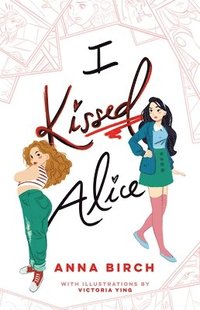 Thank you to Edelweiss+ to have given me a free arc for an honest review
Title: I kissed Alice
Author: Anna Birch
Pages: 320
Grade/age: Young adult/teen
Realese date: 28th July 2020
My rating out of 5 stars: ⭐⭐
Plot:
Rhodes and Iliana couldn't be more different, but that's not why they hate each other.
Hyper-gifted artist Rhodes has always excelled at Alabama's Conservatory of the Arts despite a secret bout of creator's block, while transfer student Iliana tries to outshine everyone with her intense, competitive work ethic. Since only one of them can get the coveted Capstone scholarship, the competition between them is fierce.
They both escape the pressure on a fanfic site where they are unknowingly collaborating on a graphic novel. And despite being worst enemies in real life, their anonymous online identities I-Kissed-Alice and Curious-in-Cheshire are starting to like each other…a lot. When the truth comes out, will they destroy each other's future?
My thoughts:
I dont know who to blame this Review on: the author or the marketing person. I dont really have a problem with the book itself BUT the summary dont add up to the book in my opinion. In the summary we read that we have a rom-com with 2 Girls who are enemies due to their art but they meet anamously online and bound over some fanart. And from enemies they become lovers.
But to me the book isnt about to Girls having some sort of rivaly over their art at all. They have a third friend whom they fight over. And its not a very cute way or a silly rivaly but a full on toxic one.
I got intrested in this because of the art rivaly thing. I been seeing alot of art drama lately on social media. People accusing others of copying, tracing and stealing art. Art is a sensetive topic, who created it and did you give credit to the right people. I would have love to see this play out in an art school.
I myself had two friends in high school who i today understand had a smaller rival thing going on because of me. I msyelf didnt notice this at all. But we were Young and they didnt want to lose me to the other.
In this book though we have a petty and toxic relationship. The third party girl know they dont like eachother and its not just disslie but its pure hate. I never really understood where this extreme hate came from to be fair. More than one been childhood friends and one just added on to the Group. is it the same situation as with my two good friends, them wanting her for themselves and are afraid of losing their one true friend?
But then again….do you truly hate someone that much over that? I get being annoyed etc. But this is full on toxic and they try their best to involve the third girl in wanting to choose a side and not invite the other one.
Another thing that did annoy me was the fact that I couldnt tell if they were truly gay or bisexual or straight. I felt like they Went back and forth alot. When it suits me im this.
I dont know who been watching 90 Days fiance and the first ever gay couple Erika och Stephanie. Just like their relationship felt odd and not truly "gay" it didnt in this book either. I wanted more true feelings and less petty and toxic teen drama.
The summary also said they was suppost to be completly different but I couldnt tell the difference between them. The book is told through their boths perspective and i must say i sometimes though i read about the other. I wanted them to be more than their hate for eachother.
Many people seem to be annoyed over the fanart and fandom part of this book. I myself dont mind it. I mean come on, cant we all agree on being stupid when we love something and we do super emberessing fanart or other fan content that we might regret later. Yes, the Alice in wonderland is overused but can we choose our love for something?
I myself wrote alot, and i mean ALOT, of vocaloid fanfiction. It happens.
The sotry itself is really good, the Writing isnt bad and i did enjoy it for the most parts. But if i didnt read the summary of the book I would have enjoyed it better and because of that my rating is low. With this I dont want to make anyone feel scared of trying t out. Do you enjoy freniemies-to-lovers plot with fanart and other nerdy things sprincled on top of that this is for sure the book for you.
You can buy the book here —-> Click this link <—–
---
Have you read anything good lately that you want to recommend?
---
Much love,
Elin Adler